Anton Du Beke had a hair transplant at HRBR. He recently came back for a review. We spoke to him about the experience, both of the initial transplant and of the results so far. We also found out what led him to decide to have the procedure at HRBR.
Strictly Come Dancing's Anton du Beke Hair Transplant at HRBR
Anton is a famous British ballroom dancer and TV personality who is most known for his role as a professional dancer on BBC's 'Strictly Come Dancing'. He has appeared as a dancer on the show since its beginnings in 2004. Anton said that during the last few years, he noticed his hairline was beginning to get thinner. It was after a conversation with his friend, and HRBR patient, James Nesbitt, that Anton decided to contact HRBR, one of the world's leading hair restoration clinics, based in Dublin, Ireland.
"I was looking at photos of myself and images of myself on television and I noticed my hair loss more. This led me to start trying to cover it with make-up and to make sure I didn't stand under certain lights. Basically, I didn't like it very much. I knew it wasn't going to improve so that's when I started to think about having a hair transplant."
Anton Du Beke's Hair Transplant at HRBR – Before and After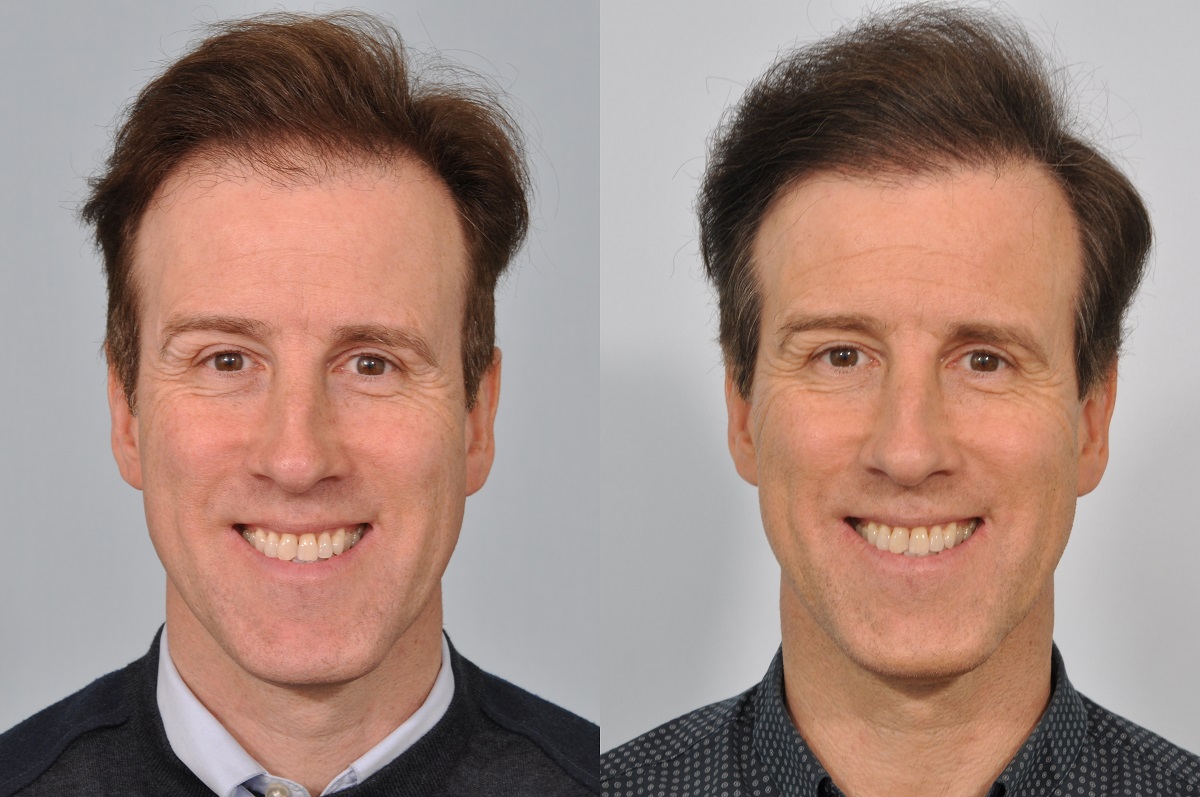 It was then that Anton du Beke's hair transplant journey began in earnest.  He approached a number of his celebrity friends and asked for their advice on what to do and where to go. He wanted to go somewhere professional, where he knew he would be well taken care of.
Following his conversation with James Nesbitt, during which James spoke to him about his experience with HRBR, Anton set up a consultation with one of HRBR's Consultant Surgeons.
"I went and met with the surgeon and I liked him instantly. I liked the setup of the clinic. The whole thing was just so professional. I knew straight away that I wanted to have my hair transplant done at HRBR."
Did hair transplant surgery make a difference to Anton du Beke?
"Immediately after having it done I was delighted. I knew that it was the best thing I had ever done. I would be happy to tell all men to do it. It's the best thing you will ever do for yourself."
Anton knows that hair loss is not an issue that affects everyone, and that some people may not understand why people opt to have hair transplants.
You either worry about hair loss, or you don't worry about it. If you worry about it, then it is a massive thing – and for me it was.
For Anton, one of the best things about his hair transplant was being able to return to work so soon afterwards, without anyone noticing that he had just had a hair transplant.
"No one really noticed. I danced soon after my transplant. Honestly, I was so happy that I just ended up telling everyone."
As someone in the public eye, who regularly appears on TV, hair transplant surgery has made a massive difference for Anton.
I have just been delighted with the results…It's been the best thing I've done
"I'm doing Strictly Come Dancing again this year and I just feel fantastic. I feel 25 again. It has given me so much more confidence when appearing on television or having my picture taken."
To find out more about hair transplant surgery or to book an appointment at HRBR Hair Restoration Blackrock, please contact us on +353 1 209 1000 or email us at info@hrbr.ie