Hair Loss in Women
At HRBR we treat female pattern hair loss, in fact women represent 10% of our clinic's patients.
However, not all female patients suffering from hair loss are suitable candidates for a hair transplant procedure as the causes of hair loss in women can be more complex.
What are the causes of hair loss in women?
Although not as common as in men, it is not unusual to see hair loss in women and treatment depends on the cause of the condition.
Many women suffer from hair loss. The causes are more complex that those in men. Female hair loss can be as a result of female pattern hair loss, scarring, an underlying health condition or a dermatological condition.
For women suffering from female pattern hair loss medical treatment at HRBR in combination with hair transplantation can be very successful.
Likewise hair transplantation can be very effective for our female patients with hair loss from scarring as a result of accident, injury or surgery.
Patients suffering from hair loss as a result of a dermatological condition such as alopecia areata are advised to attend with our consultant dermatologist who specialises in hair loss. Treatment usually involves a medical treatment and close management of the condition. For more information visit our dermatology page.
For patients with an underlying health condition that is causing their hair loss, treatment of the underlying condition is necessary in order to treat the hair loss. Attendance with your GP for onward referral to the correct specialist is advised in this case.
Female Pattern Hair Loss
At HRBR we treat female pattern hair loss and hair transplant surgery and medical treatment can be successful in the treatment of this condition.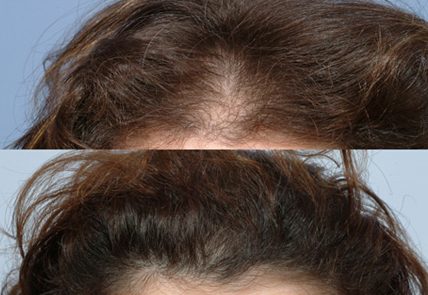 Female pattern hair loss presents itself in a similar way to its male equivalent with females experiencing thinning of hair on the top of the scalp but retaining thicker hair around the back and sides of the head. Our experienced surgeons are able to take healthy good quality hair follicles from this area less affected by the balding process around the back and sides of the patients head and transplant them into the thinning area with usually excellent cosmetic affect.
If you are unsure as to the cause of your hair loss please contact the team at HRBR who can advise you.