Medical director at HRBR, Dr. Maurice Collins, has just returned from lecturing in Lisbon at the World FUE Institute Meeting. With nearly 20 years of experience in hair transplantation, Dr Collins is internationally renowned as one of the world's top FUE surgeons. He was asked to lecture on the FUE hair transplant procedure at the conference. He is considered a world expert on the selection of the donor area for FUE hair transplantation and also on how to maximise the total graft retrieval.  The HRBR team's expertise in maximising the number of grafts from the donor area is one of the many reasons people travel from all over the world for FUE hair transplants at the clinic.
In addition to presenting at the World FUE Institute conference, Dr Collins was also asked to take part in the group discussions on difficult cases, an area of interest to Dr Collins and the team at HRBR. On the basis of his reputation as one of the top hair transplant surgeons in the world, Dr. Collins is one of the founding members of the World FUE Institute .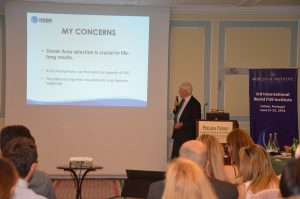 The FUE hair transplant area is rapidly expanding, with clinics opening daily around the world offering the procedure. However, with little or no regulation in the area many clinics open and close within a year. In many countries, including the UK and Ireland, there is no legal requirement that the doctors offering these services have any surgical experience. As a result, many patients are left with poor outcomes. Dr. Collins demonstrated some of these cases at the conference where patients suffered significant trauma to the donor region. Thankfully the expert team of surgeons at HRBR were able to assist most of these patients in achieving a better outcome.
As one of the world's top hair transplant surgeons, Dr. Collins will continue to share his expertise with his peers. He will be lecturing in Brazil in August at the Brazilian Society of Hair Restoration Surgery on the FUE procedure and the advantages that can be obtained for the younger hair loss patient.  He will also present at the 1st International Aesthetic Surgery Meeting in Zurich this summer.
If you would like to make an appointment at the world renowned HRBR hair restoration clinic in Blackrock, Co. Dublin please contact us today on +353 1 209 1000 or info@hrbr.co.uk.