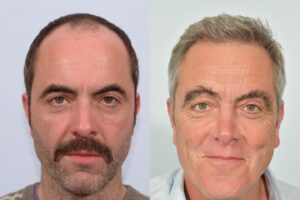 Hello. My name is James Nesbitt. 15 years ago, I had my first hair transplant at Hair Restoration Blackrock, in Dublin, in Ireland. Four years later after I'd had two transplants, I recorded a testimonial because I wanted to share just how positive an impact the procedures had on me and share those benefits for men all over the world.
So, why am I here 11 years later? Well, because I want to provide evidence and reassurance to anyone watching that this is an investment for life.
I remember it so vividly still, just how badly hair loss affected me, not only professionally, but also personally. It was something of an obsession, a young man in his 20s with a head of thick curly hair, waking up over a period of time to find hairs appearing on pillows, more and more hairs as time passed.
I couldn't walk past a shop window, I couldn't look in a mirror without constantly examining, trying to see where it was going, how quickly it was going, and constantly asking friends and family, "Do you notice it?" It's fair to say my confidence was at an all time low.
Cut to all these years later and the transformation is complete, not only physically, but mentally. When I first walked into Hair Restoration Blackrock in Dublin, I was immediately struck by a sense of calm authority, a sense that I was being looked after. I got advice that was going to really change my life. But I was allowed to make the decision. This place has been a safe haven for me.
So what advice do I have? Like with any medical condition, make sure you get proper medical advice. Don't rush into it, don't jump on a plane and go somewhere as part of a package and all of a sudden think, "why did I do that?" I probably spent about a year deciding whether or not to even go for the consultation.
I was a very confident child. I was a confident, cocky teenager. I was a confident young man in his twenties, but when hair loss struck, it really had a hugely damaging effect on me. But here now sat in front of you as a 56 year old man, hard to believe I know, who has all that confidence, that arrogance, that cockiness, that happiness returned to him.
Contact HRBR
If you would like to learn more about HRBR, hair loss treatment options or, make an appointment to arrange a consultation with one of our hair loss doctors please contact us on Tel: +353 1 209 1000 or info@hrbr.co.uk.