A natural looking hair transplant depends on how good the design is.
There is no 'one size fits all' solution to hair loss and each hair transplant is unique and catered to the individual.
Many patients are unaware of the importance of hair transplant design but the design establishes how the hair transplant will look so it's a crucial step in the hair restoration process.
It is not as simple as moving one strip of hair to a thinning or bald place and there are many factors that the team must take into account when drawing up an effective design. Age, available hair and future hair loss are just some of the things to consider when designing the most realistic looking hair transplant.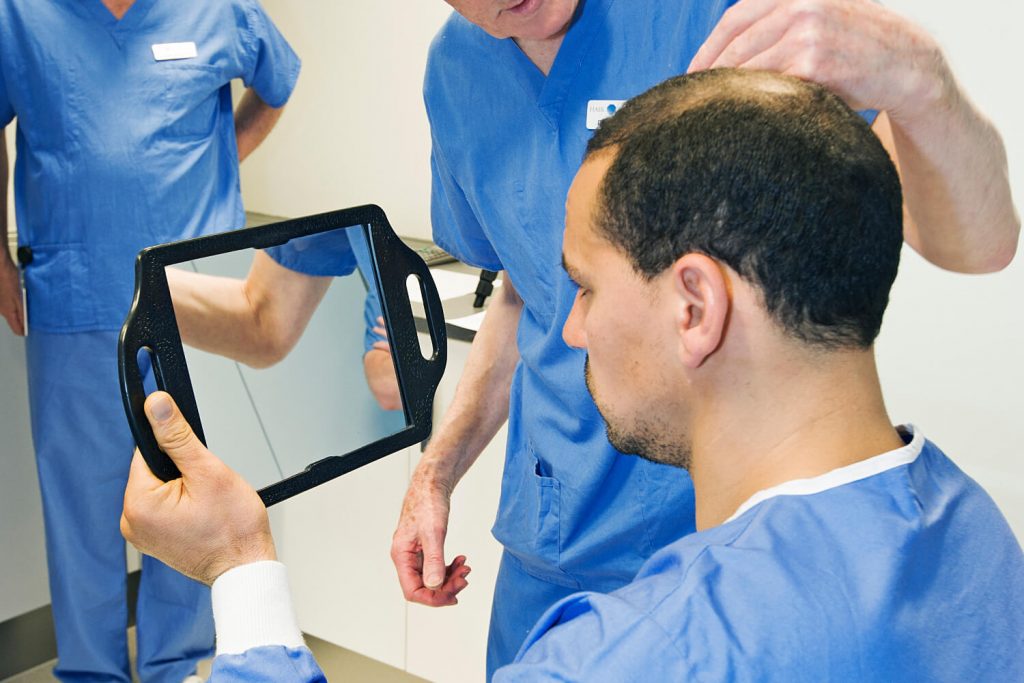 Patients attending HRBR for a hair transplant attend a pre-op consultation to discuss their options. The team assess how much donor hair they have to work with and create a realistic looking plan for the hair transplant based on this. On the day of surgery, the team gather in the morning to finalise the design process before discussing the proposed design with the patient and his partner or family member.
The design looks at the current hair loss pattern and predicts future hair loss so that hair is not transplanted to an area which will lose hair and make the hair transplant visible. It can take more than one hair transplant to fully address the hair loss problem and this is also factored into the design.
The design process is labour intensive and requires the full skill of the surgeon and technicians. Hair must be matched exactly to the area affected by the hair loss, taking into account colour and thickness, so the hair transplant blends easily into the thinning or bald area. Once the donor hair has been removed, each follicle is redistributed onto the area of hair loss, based on the design.
Often a patient will request a hair transplant design that just isn't realistic. They may be hoping for the full head of hair they had in their youth or they may wish for a lower hairline than someone their age naturally would have. A good hair transplant should look natural and not be open to detection so, in these instances, we advise the patient towards the most realistic design for their needs.
Every step of the hair transplant process should be geared towards achieving natural looking results and none more so than in hair transplant design which guides every step of the transplant procedure.
To learn more about hair transplants, read our article "Hair Transplants: What are they and who are they for?"
Find us on Facebook: https://www.facebook.com/HairRestorationBlackrock
View a summary of this blog post: